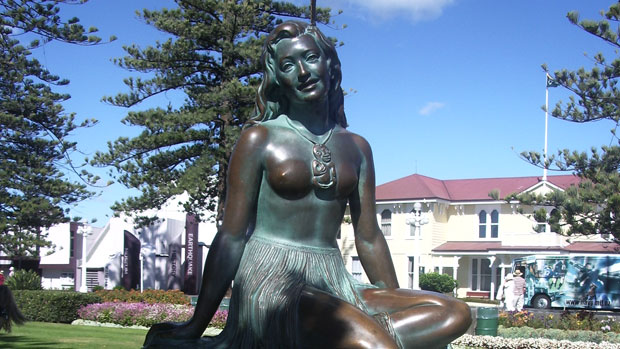 Twin cities Napier and Hastings can get competitive with each other at times, but they love each other deep down, a bit like real twins (but with less creepy mind reading and sentence finishing). One day they might end up joining together into one giant city - "Welcome to Nastier!" - but until then you should visit both, pick your favourite, then get ready to lie when the other one asks you.
Hastings is probably the underdog of the two, being further from the sea and without Napier's distinctive art deco beauty. But there are good reasons to love Hastings: we prefer the wineries in this area, like Black Barn, Te Awa and Craggy Range. Aside from wine, the Sunday Farmers' Market is probably the best in the country, Te Mata peak is beautiful to climb or just look at, and Splash Planet is New Zealand's only water-based theme park - great fun for kids and adults with maturity issues.
Hastings also has the advantage of being closer to Havelock North, which probably sounds a bit like saying Huntly is better than Wellington because it's closer to Auckland, but what we mean is there's more to do and see in the area. Sheez, give us a break.
Having said all that, everybody loves Napier. That hideous earthquake in the 1930s has created a city with a stylish and nostalgic look to it - maybe Christchurch will feel the same one day. Marine Parade divides Art Deco city from the sparkling sea, making it perfect for walkers, cyclists and rollerbladers. Just kidding people, rollerblading is never acceptable.
And of course Napier has plenty of good food and drink too. Wineries are scattered around the city and surrounds, while top shelf restaurants like Pacifica and The Old Church are good enough that you need to make a reservation. Or you could just turn up and when they can't fit you in, accuse them of being "up themselves". If that approach appeals to you, then you're probably our dad.
For cheap flights to Napier Hastings use the farefinder below, or visit grabaseat.co.nz the home of cheap airfares to Napier Hastings.